Our story
Healixia is the result of a convergence between ACRP.be, BAPU, BeAPP and BRAS which will continue as a joint new member association as from January 1st 2020.
Healixia is the Belgian community of all professionals active along the life cycle of medicines, medical devices, in vitro diagnostics & other health related products. Members are active in research & development (including pre-clinical, early clinical and later phases), medical affairs, safety, regulatory affairs and market access in industry, academia, investigator sites, authorities, regulatory bodies or in consultancy.
Healixia provides development, education, training and networking opportunities across all members and disciplines. Healixia aims to further professionalize its members and concerned disciplines and is open to work with all relevant stakeholders towards a strong community of professionals in Belgium.
Here you can read an interview about Healixia in PharmaBoardroom, the global platform for healthcare and life science executives, with our President, Erik Present:

Here you can read more about membership at Healixia.
Apart from overall Healixia events there are events and trainings for each of the four Domains: regulatory (formerly by BRAS), medical (formerly by BeAPP), clinical research (formerly by ACRP.be) and early development (formerly by BAPU).
Healixia has a worldwide network of organisations with which we cooperate. Find out more about our Healixia network.
Download here our Healixia logo and a poster about 'The Belgian Healthcare Landscape'
An overview (you can download the infographic here):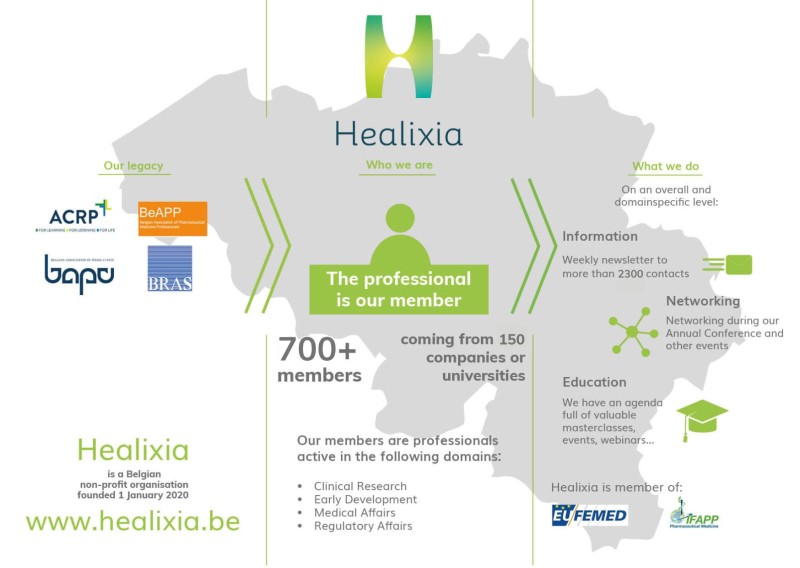 If you have a question about Healixia, do not hesitate to contact us.