Medical Affairs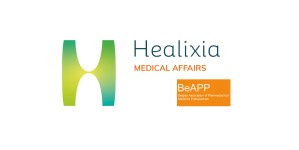 The Healixia Medical Affairs domain (former BeAPP) represents pharmaceutical medicine professionals working in or for the pharmaceutical industry. We are taking an ambassador role for Pharmaceutical Medicine, with focus on Medical Affairs.
Our mission:
be and make our members ambassadors for the profession of Medical Affairs
lobby for professional and professionalization in Pharmaceutical Medicine
organize education
be an network for our members
Academic Achievements
We strive to get Pharmaceutical Medicine (PM) officially recognized in Belgium.
These efforts led to:
the creation of Pharmed, a recognized educational program in PM (logo Pharmed with permission)
the creation of the Belgian College of Pharmaceutical Medicine (BCPM) in 2001, in conjunction with both Belgian Medicine Academia (Flemish and French speaking) and the Fellowship in Pharmaceutical Medicine
the introduction of an official request for recognition as specialist in "Pharmaceutical Medicine" in 2014.
Healixia Medical Affairs Education Group

We can rely on our Healixia Medical Affairs Education Group for the elaboration of our trainings/events/sessions on the topics with a link to Medical Affairs. You can find the members here:
Michael Maris - Novartis (President)
Liesbeth Bieghs - Novartis
Kristel Janssens - HealtHA
Medical Affairs Agenda
There are no meetings published at the moment. Please check back later!