All current members of Healixia can receive a 25% discount for online courses offered by Paul Janssen Futurelab Leiden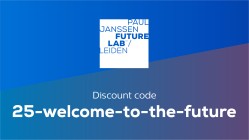 Thanks to a special agreement with Paul Janssen Futurelab, all Healixia members are entitled to receive a 25% discount on their online courses offered in 2021. To take advantage of this valuable opportunity, please enter the discount code 25-welcome-to-the-future when you register, and the discount will be applied automatically.

Paul Janssen Futurelab Leiden has several courses planned for 2021, including:
A 5-week online course on Intellectual Property and Market Exclusivity for non-legal biomedical professionals. This course starts Wednesday, April 21, 2021, and registration is now open until Tuesday April 20. You can access the course materials from Monday, April 19 onwards.
The next offering of their online course on Clinical Development will start November 1, 2021. This course focusses on the Question-Based Clinical Development approach (De Visser et al., Nature Biotechnology Jan. 2020).
Their all-new online course on Market Approval is currently being developed and will be available in the fall of 2021.
More information
For more information regarding their entire catalog of courses and tools, and to register for an upcoming course, visit their website -> https://www.pauljanssenfuturelab.eu/our-courses/.
About Paul Janssen Futurelab Leiden
Paul Janssen Futurelab is a non-profit education and training initiative of the Leiden University Medical Center in the Netherlands, offering online, on-campus, and blended "learning-by-doing" courses to ambitious biomedical researchers working in academia, knowledge transfer offices, industry, and regulatory agencies. These courses focus on key aspects in the development of new medicinal products, vaccines, gene therapies, immune therapies, medical devices, and medical nutrition products, with courses covering a wide range of topics such as clinical development, regulations and procedures, intellectual property, and market approval.