Healixia New Year's Event
January 23, 2020
On Thursday 23 January 2020, we organised our very first Healixia New Year's Event.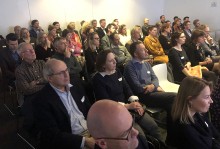 100 members of Healixia came together for this networkevent.
Ri De Ridder, former director-general of RIZIV/INAMI, gave us more insight about "why our healthcare should perform much better".
We ended the evening with a New Year's Reception to get to know each other a little bit better and to celebrate the new year.