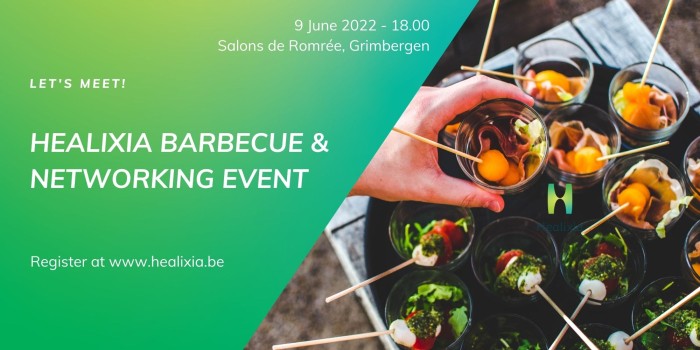 Join us at the end of spring for an informal get-together, where you can meet long-known and new peers over some good food and drinks.
Don't miss the keynote by Thierry Geerts, Country Director at Google Belgium, on his book 'Homo Digitalis' and his view on the impact of digital revolution on healthcare! Every participant receives a copy of his book.
About Healixia
Healixia is the Belgian community of all professionals active along the life cycle of medicines, medical devices, in vitro diagnostics & other health related products. Members are active in research & development (including pre-clinical, early clinical and later phases), medical affairs, safety, regulatory affairs and market access in industry, academia, investigator sites, authorities, regulatory bodies or in consultancy.
Healixia events
09 June '22

Healixia General Assembly 2022 (members only)

Grimbergen

On the agenda: 

Approval activity report and financials Healixia 2021
Approval action plan and budget Healixia 2022
Mandates Board Members: 'discharge', election Board 2023-2025

Read more

09 June '22

Healixia Spring Barbecue and Networking Event

Grimbergen

Join us at the end of spring for an informal get-together, where you can meet long-known and new peers over some good food and drinks.

Don't miss the keynote by Thierry Geerts, Country Director at Google Belgium, on his book 'Homo Digitalis' and his view on the impact of digital revolution on healthcare! Every participant receives a copy of his book.

Read more

27 June '22

Webinar: Healixia essentials: what you should know about the RIP (Responsible for Information and Publicity)

Online

The how, the why and the who: all you would like to know about the RIP when working outside regulatory affairs.

More information will follow soon!

Healixia Essentials: during several short sessions throughout the year, we tackle different terms, concepts or processes to keep all professionals up to speed with the essentials of the life sciences industry.

Read more
Show all meetings
News
May 24, 2022

Coronavirus: the Belgian guideline for the management of clinical trials during the coronavirus pandemic no longer applies

Due to the ending of the epidemiological emergency situation on 10 March 2022, the Belgian guideline to assist sponsors in the management of clinical trials during the coronavirus pandemic no longer applies. From now on, the rules in force will be applied and any deviation must be requested by providing a clear description of the situation.

Source: FAMHP

May 18, 2022

New antimicrobial drugs available in Belgium: Colistineb, Zerbaxa, Broxil and Rukobia. Important for patients and for the fight against antimicrobial resistance.

De beschikbaarheid van geschikte antimicrobiële middelen zorgt ervoor dat artsen meer mogelijkheden hebben om de beste behandeling te voorzien voor hun patiënten. Het is ook belangrijk in de strijd tegen antimicrobiële resistentie. Colistineb, Zerbaxa, Broxil en Rukobia zijn antimicrobiële geneesmiddelen die recent beschikbaar werden in België.

La disponibilité des médicaments antimicrobiens appropriés donne aux médecins davantage de possibilités de fournir le meilleur traitement à leurs patients. Elle est également importante dans la lutte contre la résistance aux antimicrobiens. Colistineb, Zerbaxa, Broxil et Rukobia sont des médicaments antimicrobiens qui ont récemment été mis sur le marché en Belgique.

Source: FAMHP

May 17, 2022

Call for tender by the European Commission: reservation of manufacturing capacities and priority right to manufacture vaccines

The European Commission has launched a call for tender to conclude single (consortium) framework contracts to reserve manufacturing capacities and obtain a priority right to manufacture vaccines in case of a future public health emergency. The project is called EU FAB.

Source: FAMHP